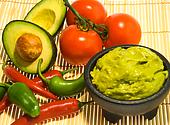 Guacamole, Por favor!
Traditional guacamole, fresh and tangy.

Remember portion control. Its very easy to snack on Doritos and guacamole and forget the sodium one is consuming through the Doritos (corn chips).

1 serving is 1 tablespoon

Avocado's are very low in Cholesterol. They are also a good source of Dietary Fiber, Vitamin C, Vitamin K and Folate.